Additional package for MNREGA, all public sectors to be open for private players, Nirmala Sitharaman announces today
New Delhi/IBNS: Union Finance Minister Nirmala Sitharaman in the fifth and final process of unveiling the 20 lakh crore 'Atma-Nirbhar Bharat' fiscal package to revive the economy in the aftermath of coronavirus outbreak, announced on Sunday that an additional 40,000 crore will be spent on the MNREGA scheme.
Of the major announcements, Sitharaman on Sunday said there will be no fresh insolvency proceedings against any debt-ridden company while mentioning that all public sectors would be open for private players.
On Sunday the Union Finance Minister besides highlighting the earlier announcements also made a break-up of the package in several sections.
"We have taken seven measures today - 1) MNREGA, 2) Health - rural and urban, including education, 3) Businesses and COVID19, 4) Decriminalization of Companies Act, 5) Ease Of Doing Business, 6) Public Sector Enterprises, 7) State governments and related resources," she said during the press conference.
MNREGA:
"A large number of migrant workers are going back to their states. Additional Rs 40,000 crore will be spent to this scheme for migrants who have gone back to their home states. This is to ensure that these workers find jobs in their home-states," Sitharaman said.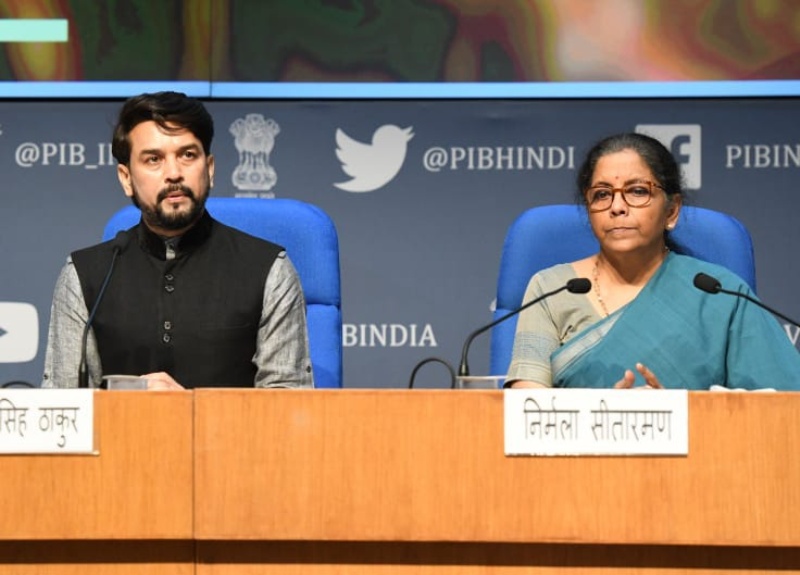 Health (Rural and urban) & education:
Speaking about the health and education front, she said health reforms and initiative have been put in place and investments in grass-root level will be further ramped up.
"All districts will have infectious diseases block in hospitals," she announced.
Noting the updated form in education, she said: "3 channels already earmarked for school education,12 more channels to be added, which will be of great help to children in both urban and rural areas. Technology has been used in a big way to continue education and enhance learning."
IBC-related matters:
Making a major announcement on Sunday, Sitharaman said that many debts related to COVID-19 shall not be considered under the category of defaults, under Insolvency and Bankruptcy Code.
"No fresh insolvency proceedings will be initiated up to 1 year. For MSMEs, a special insolvency framework will be notified under section 240 A of IBC," she announced.
"Insolvency proceedings limit has been raised to Rs 1 crore from Rs 1 lakh. This will be an ordinance and pass it in parliament once it is in session," she said.
Companies Act:
Sitharaman informed that there have been compliance deadline extensions to avoid procedural defaults with decriminalisation of most sections of Companies Act.
"Compoundable offence can be tried under internal adjudication mechanism rather than going to courts. This will de-clog courts.7 compoundable offences will be dropped and 5 to be dealt with under alternative framework. Will bring in an ordinance to this effect," she said.
Corporate affairs - related reforms:
She said there will be listing of non-convertible debentures on stock exchange, which doesn't make them listed companies.
Public Sector Enterprise Policy:
Stressing on the need of privatisation, the FM announced that "Atmanirbhar bharat needs coherent policies. All sectors will be open to private sectors also. We are coming up with policies wherein private sector will be allowed to operate in all sectors but public sector enterprises will continue to function."
'GoI will announce new policy - strategic sector and others. In those notified strategic sectors where public sector is present, at least one public will be present while private is also allowed to operate. Not more than 4 public sector to be present in notified sectors. More than 4 will either be merged or brought together," she said.
"Private sector can slowly come in and compete in every sector. Details will be issued soon," the minister added.